Wow, what a summer.......................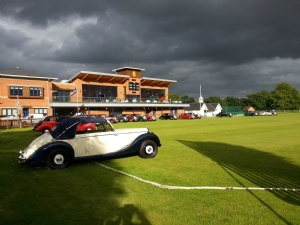 As soon as the students had packed away their books, Venues and Events took over the school starting with a wedding reception for over 110 guests in the Halse Pavilion, They danced the night away in the specially decorated room by Oasis Events.
We then went "corporate" with the global integrated security company G4S holding an annual conference for their communications division. Using both the Bridge House Theatre and the Halse Pavilion, they finished with a BBQ before all their delegates drove off to the four corners of the country. (With Warwick so central, it's ideal for national events.)
Sporting also played its part this summer with the RFU festival for the under 16 and 18 academy sides of the professional clubs. The ECB Visually Impaired national side held the second of their training camps with us over a weekend, staying at the local Hilton Hotel. While it may not be sport, the Riley RM Car Club held their annual rally with us over a weekend with Sue, the organiser telling us "many of our members said it was the best meal and camp and best venue that we've had in 40 years"
Another wedding and dance followed with the Followers of Rupert Bear holding their annual trade show and dinner with us over the bank holiday weekend. Meetings, music and drama events were also held before the students returned in September.
A busy summer highlighting the versatility of events that can be cater for at Warwick School Venues and Events.