Dinner dances in Warwick Hall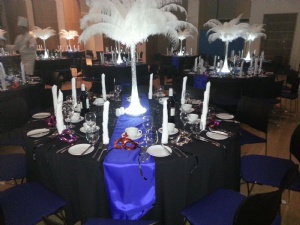 Are you arranging a dinner dance soon, then read on.....
Winter 2017 saw the first dinner dances taking place within our stunning new venue, Warwick Hall. Over 800 diners have eaten 3 course meals with fantastic music from a variety of bands into the early hours. The hall can seat up to 300 guests on round tables, the stage is ideal for the bands to perform on and there is a fitted LCD projector and electric screen for those special presentations.
The foyer hosted Prosecco receptions, while the organisers were putting their finishing touches to the tables. Either a cash or account bar was offered while draught beer was supplied by Coventry's Byatt's Brewery on a couple of occasions.
Catering Manager Carlo, Head Chef Eifion and their team served fantastic food, with many customers asking whether we employed specialist agency chefs: NO, they are all ours! Luis and his front of house team ensure all were offered the best service possible throughout the evening.
This is what some of our customers have said….
353 Ball I just wanted to say a massive thank you; to you, the entire events team, chefs, and caretaking staff. The evening was a resounding success in terms of revenue generated for our charity but also in terms of feedback from our guests and sponsors. Not just the outstanding venue but in particular the food was highlighted as a major surprise and success, people have gone out of their way to say how superb it was and especially the beef for a mass catered event, please pass on our thanks to the chefs ………… 5 star recommendation!
Medical Ball – the organiser received lots of comments via e-mail and text, here is a selection…. "We both loved the band, venue and the food was lovely" "Thanks for a fantastic night - we had a great time. Wonderful venue, food, band and company." "A fantastic venue, great food and great band. Brilliant!!!" "A great venue, fab food, fantastic band"
Wright Hassall – "the event went really smoothly and we have had really good feedback."
So, if you are organising a dinner dance soon, please speak to us to see how we can help make it a successful event for you.