We are not your average school food...................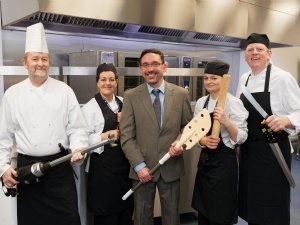 Over the years, school food has improved enormously and I doubt you will find lumpy custard anywhere. Here at Warwick School, we employ exceptionally talented Chefs who have a wealth of experience throughout the hospitality industry. Our team have a passion for food and hospitality and have experience in Hotels, restaurants, conference centres, the officers' mess in the armed forces and have even cooked for royalty.
The team led by Catering Manager Carlo Lubrano ably assisted by Executive Head Chef Eifion, Senior Sous Chef James and Bernie, Faye and Skye work with fresh local ingredients taking great pride in creating both traditional and contemporary home cooked dishes to suit all tastes.
And the excellent food is then served by our customer service team led by Luis Moreno Perez, who has great experience in London private members clubs and 5 star Hotels.
But don't just rely on what we are saying about our food and service, read what our customers this year have said.....................
Many of our members said it was the best meal and venue that we've had in 40 years - Riley RM Club
and a number of people commented on how lovely both the venue and the food was - Briony and Mike's wedding in the summer
Those who have spoken to me about the meal were both delighted with the quality of the food and also the efficient service - Leamington Twinning Association Dinner
The support and organisational aspect of the event was fantastic, as was the catering. - Coventry & Warwickshire Champions
So if you have an event coming up in 2017 where you require quality food and service, look no further than Venues and Events at Warwick School.
From wedding receptions in the Halse Pavilion, dinner dances in Warwick Hall through to private lunches in the Pyne Room, Warwick School offers a variety of venues for you to enjoy the delights of our catering team.
Examples of our recent dishes