Warwick's newest venue opens.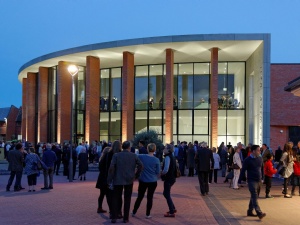 The new Warwick Hall at Warwick School was officially opened on Friday 23 September.
This state-of-the-art venue replaces the much-loved but outgrown Guy Nelson Hall. Warwick Hall is now one of the largest and finest performance venues in the region; costing £7.5m Warwick Hall was supported by a fund-raising campaign that raised over £1.1m.
The hall was opened by one of Britain's leading theatre directors, Michael Attenborough CBE. He spoke of the importance of the Arts in schools and Warwick School being a genuine inspiration and a true 'centre of excellence'.
The occasion was marked with a celebration of artistic talent from Warwick School and King's High School students, past and present. Performances included a piano recital, the school's Altiora dance company, music from school shows including Les Miserables and West Side Story. The audience also heard, via video from a selection of Old Warwickians who have followed careers in the arts, including magician Ben Hanlin, singer songwriter James Taylor-Watts and actors Ralph Davis and Charlie Hamblett.
The hall itself is equally as impressive as the students' talents. As well as being the home for school assemblies, it also provides a new state-of-the-art venue to accompany the excellent Bridge House Theatre. The new hall has a gallery level which increases the capacity to 1000, and a telescopic seating unit giving maximum flexibility in accommodating everything from large orchestras to dance performances.
Gus Lock, Head Master of Warwick School commented, "As well as benefitting pupils across the Warwick Independent Schools Foundation I sincerely hope Warwick Hall will be an asset to the whole community, providing a stunning venue which will attract a range of musical and dramatic performances for all to enjoy."
Over the coming months there is a great programme of music, dance and theatre to put the wonderful new space through its paces. This includes Saturday, 1 October, when the outstanding acoustics of Warwick Hall will be brought into full effect, at a unique concert featuring Roderick Williams alongside the internationally renowned Orchestra of the Swan, and the talented musicians of Warwick School and King's High School. For more information on the programme of events please visit www.bridgehousetheatre.co.uk .
Whilst fulfilling the needs of a very busy school, Warwick Hall is also available to the local community and beyond. It is ideal for celebrations of up to 300, conferences and exhibitions as well as music or drama performances for up to 500 with a tiered seating or 800 with flat seating. Please contact Venues and Events for more details.