Warwick Hall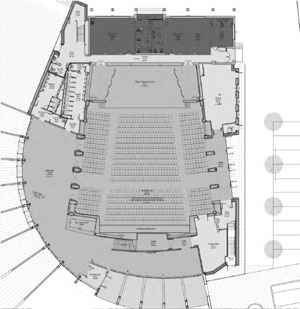 The new Warwick Hall was completed in September and will be available to hire from January 2017 onwards. It is on the site of the old Guy Nelson Hall and adjacent to the Bridge House Theatre. It will be available to hire for performances, concerts, conferences, exhibitions, and a whole range of events.
The Hall will seat 800 people with flat seating, including a balcony of 239 seats or a tiered seating of 498 including the balcony. The enhanced acoustics provide a first-class space for concerts and the spoken word. There is a Box Office facility within the Bridge House Theatre which is available for your event based on a commission basis.
The large foyer space will be ideal for exhibitions or as a refreshment area. Catering and bar facilities are available in the new Hall and celebrations such as weddings and company dinner dances will be catered for up to 300.
To see the fly through video of the Hall, click the button below...........